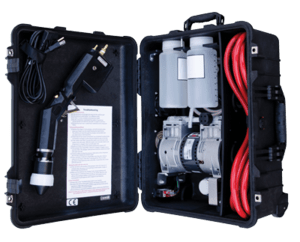 Electrostatic Sprayer
Regular price
$ 3,410.00
/
---
In stock, ready to ship

Inventory on the way
Electrostatic Sprayer
Reduce chemical usage, increase productivity, and ensure adequate coverage with our portable electrostatic sprayer.
Ideal for applying disinfectants and microbial protectors
Compact design
Durable polyresin case has wheels and extendable handle for easy transport
Includes one electrostatic spray gun and air compressor
Technical Specifications
| | |
| --- | --- |
| Nozzles | 1 |
| External air supply required | No |
| Electricity required | 110V |
| Carrying capacity | Dual 1 Liter Nalgene Bottles |
| Size | 22"H x 16"W x 10"D |
| Hose length | 30 ft. |
| Electrical cord | 10 ft. |
| Weight | 48 lbs. |
| Flow rate | 1 gal/hr |
| Drop size | 40 micron VMD |
| Spray range | Up to 8 ft. |
| Air compressor | 35 PSI |
What is an Air Assisted Electrostatic Sprayer?
At the tip of our electrostatic sprayer is a tiny electrode which applies an electrical charge to the spray. This electrical charging causes a natural force of attraction between the spray droplets and target surface, similar to the attraction between items of clothing created by the tumbling of a clothes dryer. The charge on the droplets is small, but the force pulling the spray towards the target is 75 times greater than the force of gravity. Droplets literally reverse direction and move upwards, against gravity, when passing a target surface. This remarkable phenomenon by which the spray coats the undersides and the backsides of the spray target is known as electrostatic 'wraparound'. This wraparound ability allows your chemical to reach the underside, backside and penetrate nooks and crannies of your target surface.
What is an Electrostatic Sprayer Used For?
An electrostatic sprayer is used for applying disinfectants, pesticides and other applications where the user needs to use as little chemical as possible, and yet achieve complete coverage.
Importance of Droplet Size
The ability to reach the underside, back and crevices of target areas would not be possible if the droplets coming out of an electrostatic sprayer were the same size as that found in a standard sprayer. The droplets coming out of the electrostatic sprayer are 900 times smaller than those coming out of a traditional sprayer. These tiny droplets are blown toward the spray target in a high-speed air stream (this is the 'air-assist'). The result of these fine droplet sizes is a doubling of the deposition efficiency of an electrostatic sprayer compared to a traditional sprayer.
Benefits of Electrostatic Spraying
COST SAVINGS - A traditional sprayer requires that you drench surfaces with chemical to get adequate coverage across the entire surface. An electrostatic sprayer; however, "seeks out" and evenly coats surfaces using a fraction of the chemical required by standard sprayers. How much can an electrostatic sprayer save you over the course of a year? A gallon of Surface Protector costs $79.99. An average customer will use around 50 gallons for a yearly cost of $3,999. Reducing this to 25 gallons a year will save you almost $2,000, and that's just one chemical!
The graph below shows how much better deposition is on a complex textured surface like a chrysanthemum using an electrostatic sprayer compared to a 'wet' sprayer. The deposition of the chemical was 3.5 times greater when using the electrostatic sprayer highlighting its ability to 'seek out' the entire targeted surface.
PEACE OF MIND - When applying disinfectants it's crucial to achieve adequate coverage of contaminated surfaces. The combination of use of the electrostatic sprayer and ATP testing (ATP meter #AC8461) use of become a powerful combination to assure yourself, and more importantly, your customer, that their surfaces have been treated adequately.
COMPARISON OF ELECTROSTATIC SPRAYER TO STANDARD SPRAYER
Test object prior to spraying with an electrostatic sprayer
 
STANDARD SPRAYER

 

- Test object after application with a normal sprayer. Notice that the object is only covered on the side that faces the spray nozzle.
ELECTROSTATIC SPRAYER

 

- Test object after being sprayed with an electrostatic sprayer. Notice that ENTIRE surface is covered despite only spraying from ONE side. Additionally, only half of the chemical was required to coat the entire surface, not just the front half.
What Chemicals Can be Used in the Electrostatic Sprayer?
For the sprayer to work effectively, dilute water-based chemicals must be used. Extremely viscous liquids or organic solvents will not work properly and may even ruin the sprayer. We specifically recommend the Bactibarrier Disinfectant and Bactibarrier Protector for remediation applications.
**CAUTION: Because an electrostatic sprayer creates very small droplets, appropriate PPE must be worn by the user; including, a respirator to prevent the inhalation of potentially harmful chemicals.**