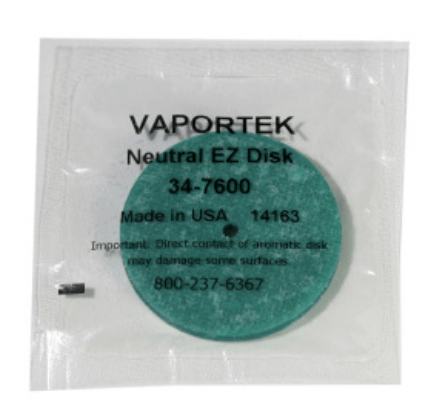 Vaportek EZ Disk (12 Pack) - All Scents
---
In stock, ready to ship

Inventory on the way
Quick Facts:
Each disk treats 2,000 ft3

Nontoxic & biodegradable disks last up to 30 days

Approx. Dimensions: 3″W x 1″D

Ideal for areas where continual deodorization is needed because the source of the malodor remains

Primarily intended for residential & not industrial applications
Product Ideal For (But Not Limited To):
Home

Closets

Automobiles/Boats

Hotel

Janitorial

Medical

Pet
Scent Description:
BERRY Fragrant, light notes of raspberry, cherry, strawberry, & grape.
NEUTRAL A clean, fresh fragrance blend of eucalyptus & pine oils that together create an effective, natural odor neutralizer.
FOREST Breath in fresh-cut boughs. An earthy medley of pine, cedar, & fir trees.
LAVENDER Softened with notes of jasmine over a base of clean musk & a hint of smoky wood notes, this scent calms & soothes.
LEMON A refreshing burst of fresh-cut lemons. An essential in creating clean-smelling environments.
LINEN Bask in the scent of just-washed linens. A base of musk & balsam, blended with jasmine & rose, finishes this soft, floral aroma.
MEADOW Airy & light. A blend of leafy green & citrus notes, with hints of green apple, rose, jasmine, & earthy tones.
OCEAN Invigorate with hints of marine & spice notes, blended with lavender, amber, & musk aromas.
ORCHARD Delight in this playful combination of apple, peach, & other fruity essences.
POTPOURRI Hints of cinnamon, musk, & bay leaf are added to this botanical bouquet of fruit & floral notes.
VANILLA Sweet & warm, this pure vanilla aroma is expanded with musk & soft floral notes.
WINTER A crisp fragrance built around spruce & white fur notes, with accents of clove & peppermint.