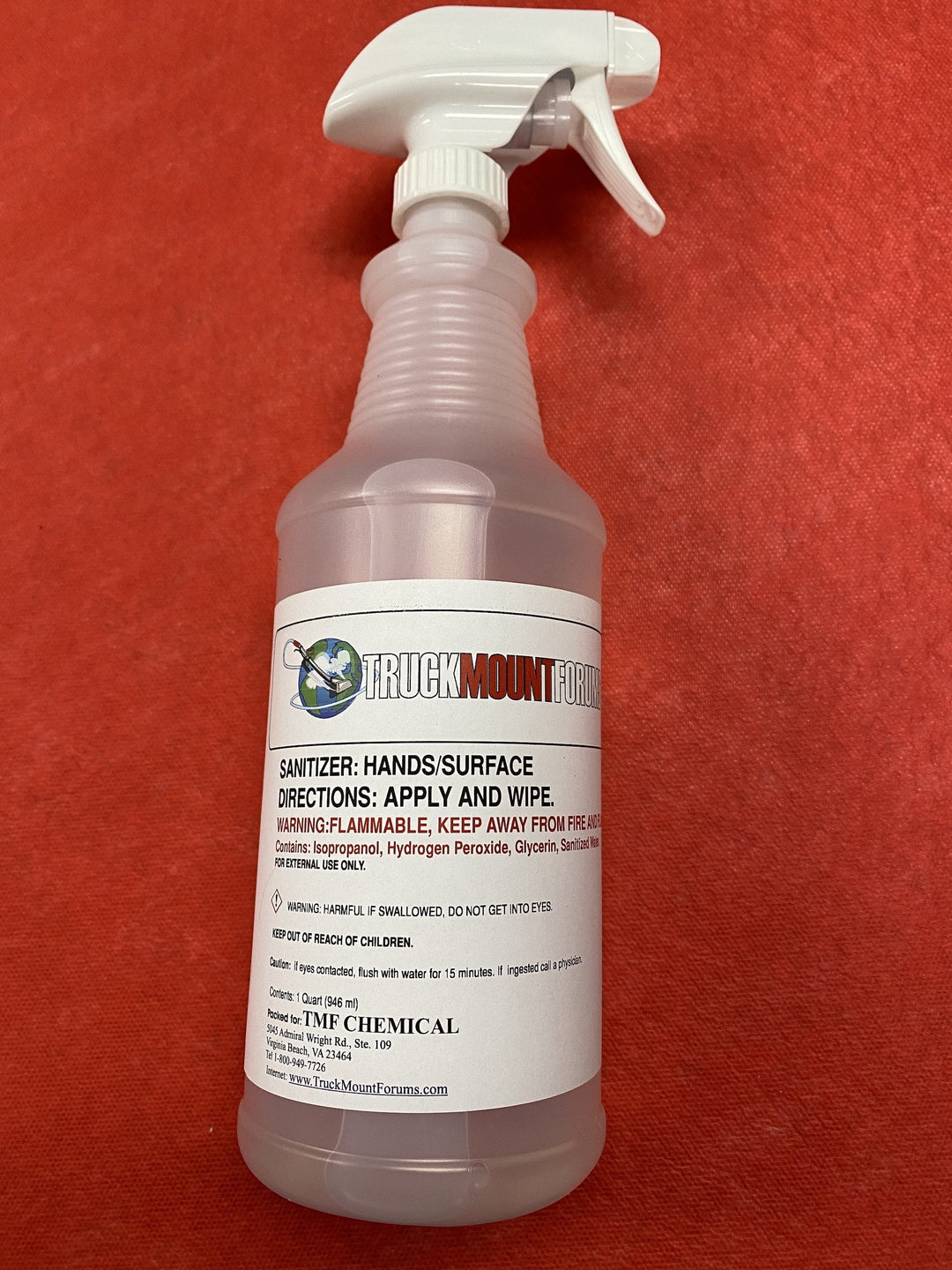 Hand Surface Sanitizer 80% isopropanol and Peroxide 1 Quart
Regular price
$ 45.00
Sale price
$ 22.45
Save $ 22.55
/
---
In stock, ready to ship

Inventory on the way
**IN STOCK AND SHIPS WITHIN 24 HOURS** Every bottle comes with its own Tube and Spray top - this sanitizer meets the FDA/CDC current guidelines - which our version also at a higher rating of 80% while CDC recommends 60 / 70% as listed below.
MADE IN USA - We will NOT ship this out of USA, your order will be cancelled if so. Due to the nature of this product there is no refunds and no returns.
(Grainger is selling these at $56/qt)
Ingredient Disclosure:
80% isopropanol alcohol
Hydrogen Peroxide
Glycerin 
Sanitized Water
(NO SCENT)
*CONTAINS NO CRAP ETHANOL LIKE OTHER BRANDS!
Size: 1 quart 
WARNING:
Flammable, keep away from children!
Keep out of eyes. In case of contact with eyes, flush thoroughly with water
Avoid contact with broken skin
For external use only.
CDC Recommends: 

CDC recommends the use of alcohol-based hand sanitizers with greater than 60% ethanol or 70% isopropanol as the preferred form of hand hygiene in healthcare settings, based upon greater access to hand sanitizer. Health care providers who use alcohol-based hand sanitizers as part of their hand hygiene routine can inform patients that they are following CDC guidelines.
If soap and water are not available, use an alcohol-based hand sanitizer that contains at least 60% alcohol.
Why? Many studies have found that sanitizers with an alcohol concentration between 60–95% are more effective at killing germs than those with a lower alcohol concentration or non-alcohol-based hand sanitizers 16,20. Hand sanitizers without 60-95% alcohol 1) may not work equally well for many types of germs; and 2) merely reduce the growth of germs rather than kill them outright.
Reference: 
https://www.cdc.gov/coronavirus/2019-ncov/hcp/hand-hygiene.html
*TruckMountForums is in compliance with the updated FDA laws. TMF cannot make a determination of the effectiveness of a product in fighting pathogens like Coronavirus COVID-19. For questions related to the effectiveness of any product not please contact the manufacturer directly. TruckMountForums makes zero claims on any products but rather listing only from the manufacturers website and listed recommendations from the CDC, WHO and EPA - TruckMountForums claims no responsibility over any chemicals sold, dropshipped or listed information and under any responsibility or liability in relation to the Coronavirus.  TMF shall not be responsible for any action taken or fines or penalties assessed by any personal, company/business, governmental agency against the chemicals sold  due to any requirements or regulations of any governmental agency or with a notification issued must be handled direct to the manufacturer of these listed products of this Collection. Purchasing and using these products are used at your own risk and you claim 100% responsibility. 
-
Hazardous material - Other Regulated Material

This item has been restricted from sale in the following states: AK, GU, HI, and PR.