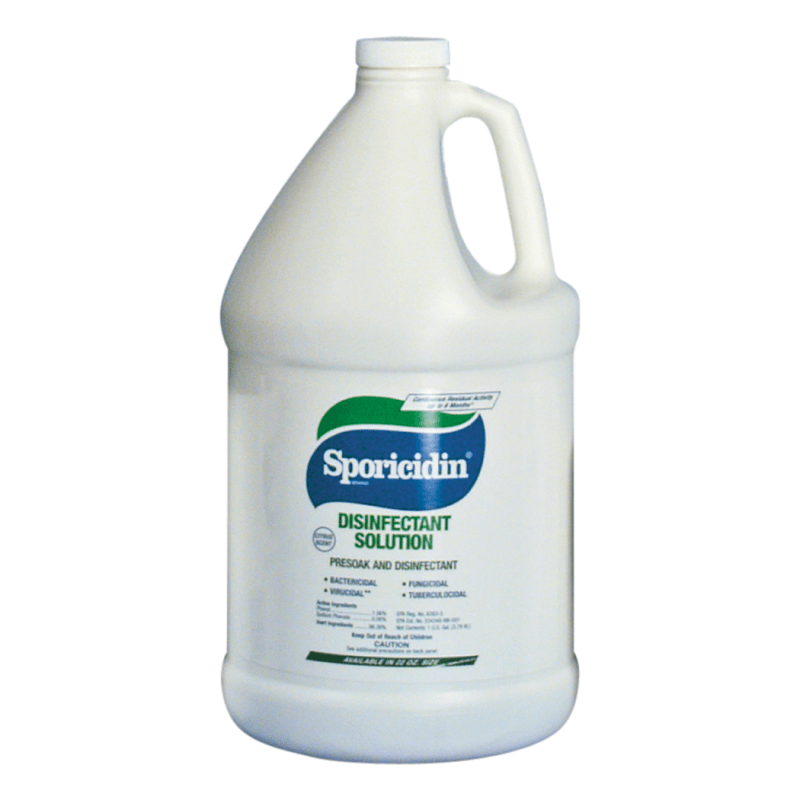 Antimicrobial, Sporicidin Disinfectant FRESH SCENT Solution, 4 Gallons
Regular price
$ 185.00
Sale price
$ 155.00
Save $ 30.00
/
---
In stock, ready to ship

Inventory on the way
Sporicidin® is used in hospitals, and medical/dental environments since 1978, and it's able to kill disease- and odor-causing organisms.
Sporicidin Disinfectant Solution and Spray are FDA 510(k) cleared, EPA registered for hospital use and compliant with OSHA Bloodborne Pathogens Standards (29 CFR 1910.1030). These products are registered for mold and mildew remediation/restoration for use in institutional, commercial and home environments.
Recommended Uses:
Mold/IAQ remediation
Misting and dust suppression
Water and flood damage restoration
Sewer backflow cleanup
Trauma & Crime scene cleanup
Carpet cleaning, decontaminating and odor control
Disinfects hard, nonporous environmental surfaces
Clean, disinfect and deodorize equipment and personal protective equipment (PPE)
Features and Benefits
EPA,

 

FDA

 

and

 

OSHA

 

compliant
EPA toxicity rating "low/very low"
Cleans,

 

disinfects

 

and

 

deodorizes

 

in one step
Continuous residual bacteriostatic activity up to

 

6 months*
Kills mold and mildew, including

 

Stachybotrys chartarum** (black mold)
Provides 100% kill

 

of disease and odor causing organisms. It is fungicidal, bactericidal, virucidal, mildewcidal and tuburculocidal
Non-corrosive

 

to surfaces including plastics, latex, vinyl, glass, wood, metal and porcelain
Non-abrasive
Alcohol free

 

safe for equipment***
Contains a pharmaceutical active ingredient system with

 

no harsh chemicals, such as bleach
Will not inhibit the adhesion of paint
Mildly alkaline (pH 7.5)
Non-staining

 

and

 

non-flammable
No special shipping or disposal restrictions
Registered in all 50 states (including California), Puerto Rico and Canada
* EPA Registration Number 8383-3
** Bean, GA. University of Maryland Department of Cell Biology and Molecular Genetics
***Alcohols are inappropriate for use on surfaces because they coagulate protein, are poor cleaners and rapid evaporation makes adequate contact times impossible on open surfaces"
Block, SS, ed., Disinfection, Sterilization and Preservation, 4th ed., Philadelphia: Lea & Febiger, 1991 Sporicidin® Mold & Mildew Stain Remover is an excellent product for removing unsightly stains left by microbiological life, such as mold, mildew, moss, bacteria, and algae stains. MRC-101 series is a biodegradable, environmentally friendly and water-based stain remover that has been developed for mold remediation and flood damage restoration projects. MRC-101 is easy to use - spray it onto the stained area, let penetrate and dry, then remove any remaining excess by rinsing, brushing or wiping away - it's that simple! MRC-101 is suitable for use on commercial and residential stain cleaning and removal projects and recommended for most construction materials.

Features & Benefits:

Non-leaching and non-toxic
Excellent longevity
Bonds to organic and inorganic surfaces
Superior moisture prevention
Provides protection from water penetration
100% biodegradable
Coverage approximately 1,000 sq.ft. per gallon
Dry Time: 30 min. to two hours depending on humidity and temperature
Shelf life: 24 months if unopened or opened if properly stored

Dilution Ratios: RTU RTU pH:7.5 Contains: 1 gallon