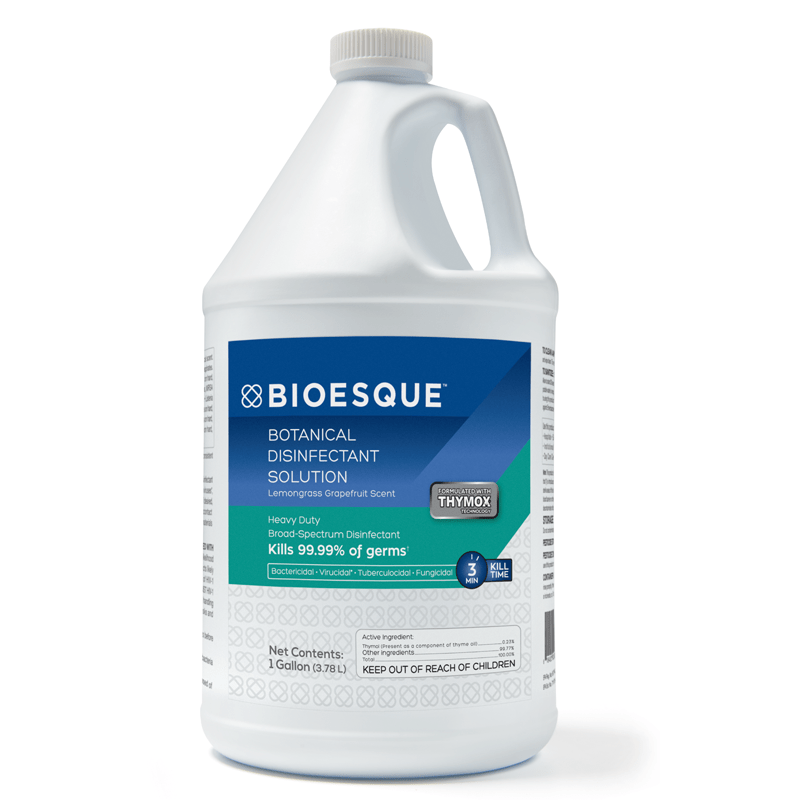 Bioesque Botanical Antibacterial Disinfectant Solution - 1 Gallon
Regular price
$ 36.00
Sale price
$ 34.99
Save $ 1.01
/
---
In stock, ready to ship

Inventory on the way
** NO RETURNS/REFUNDS ON DISINFECTANTS DUE TO DEMAND OF COVID019 **
The new strain of Coronavirus (COVID-19) has not been tested against specific/any disinfectants at this moment, these products have been very effective at similar viruses such as Human Coronavirus and others as it states. 
Capable of cleaning, sanitizing, disinfecting, and deodorizing in a single step, Bioesque's Botanical Disinfectant Solution is the natural solution for a wide range of cleaning challenges. This innovative product: Features the patented Thymox technology and a botanically derived active ingredient.

Is a one-step cleaner with bactericidal, virucidal, tuberculocidal, and fungicidal claims.

Is a broad-spectrum disinfectant registered with the Environmental Protection 

Agency.
Cleans disinfects,

 

and deodorizes a wide array of surfaces.

Eliminates malodors and features a fresh lemongrass-grapefruit scent.

Is nonabrasive, environmentally friendly, and ideal for everyday use,

Contains no chlorine, phosphates, or harsh chemicals.

Does not require the use of personal protective equipment.

Is effective in restoration and remediation situations.
Strength, Speed, and Sensitivity
With a formula that is free of bleach and other harsh chemicals, Bioesque's Botanical Disinfectant Solution is a great choice for hazard-conscious or environmentally sensitive settings. Powered by Thymox technology, it utilizes Thymol, a cutting-edge antimicrobial agent derived from natural thyme oil, to quickly power through grime and destroys germs that it encounters. How efficiently does this professional-grade product work? This disinfectant:
Kills 99.99 percent of viruses in one minute.

Kills 99.99 percent of bacteria in two minutes.

Kills 99.99 percent of fungi and molds in three minutes.

Kills Mycobacterium tuberculosis in three minutes.
Available in multiple sizes, Bioesque's Botanical Disinfectant Solution is an undeniably useful tool for restoration and cleaning professionals. It is perfect for use on an impressive array of surfaces and requires no special precautions or equipment to use. After spraying, simply allow the product to sit on the surface for the appropriate period of time before wiping it down if desired. This versatile product is suitable for health care, residential, commercial, and industrial settings and ideal for restoration scenarios.
Download SDS here. 
TruckMountForums cannot make a determination of the effectiveness of a product in fighting pathogens like Coronavirus COVID-19. For questions related to the effectiveness of any product not please contact the manufacturer directly. TruckMountForums makes zero claims on any products but rather listing only from the manufacturers website and listed recommendations from the CDC, WHO and EPA - TruckMountForums claims no responsibility over any chemicals sold, dropshipped or listed information and under any responsibility or liability in relation to the Coronavirus.  TMF shall not be responsible for any action taken or fines or penalties assessed by any personal, company/business, governmental agency against the chemicals sold  due to any requirements or regulations of any governmental agency or with a notification issued must be handled direct to the manufacturer of these listed products of this Collection. Purchasing and using these products are used at your own risk and you claim 100% responsibility.