Customer Reviews
Write a Review
Ask a Question
08/19/2020
James P.

United States
Ball valve handle came off
Like others, it worked for a few months and then the ball valve handle came off. Thankfully it was in the closed position and I have continued to use wand as is. Would like to replace the ball valve but don't know what the part is or where to find it.
Poor quality
Valve fell apart after a couple uses
Not beefy enough
Worked great on a few jobs. Started leaking at ball. I kind a new that this ball valve was not going to make it. Lever on the ball valve fell off in hand. Glad it was on the off position so I can finish the job. Too small for manly job. Elbow leaked in two places. Went to Home Depot bought a new ball valve how about a couple other. Need to go up one level 4 carpet wand.
Replace valve.
The product is a good design. But the valve to shut and open is cheap. It breaks fast and leaks does not last long. This is my second time purchasing this product from u guys to put on my second wand. I have to disesemble and buy my own heavy duty valve from Home Depot and reinstal as soon as I get it. So if u guys would just change that valve it would be perfect. Thank you.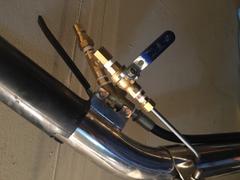 Great to have this item...!
Great to have this item...!
Quick delivery
The product is just what was advertised and as cheap or cheaper than I could make myself, and it arrived sooner than expected. Thanks TMF!